Promote your business or brand by using vinyl die cut decals.  These are the type of decals you see on the side of car and trucks with company logos and contact information.  They can also be used in store windows, displays, signs, banners or any other smooth surface.
We do not print on the vinyl but instead use the base vinyl color and cut out the logo or text you desire.  We can do multiple color decals by overlaying colors on top of or next to each other.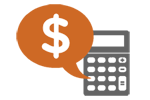 If you would like to get a quote on a custom vinyl die cut decal please click here.