Applying custom waterslide decals to your cosplay costumes and props is a great way to finish off your project and give it that extra over the top touch. You can add anything from simple white text to complex full color graphics. These waterslide decals can be applied to any metal, wood, glass or plastic surface and will give you that painted on look. They can be clear coated with many different types of sprays and will last as long a the clear coat does. The decals are fade proof so they will not dull over the years even if they are in direct sunlight.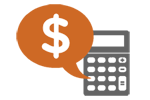 If you are interested in pricing, please request a quote and we will get right back with you.
Here are just a few of the waterslide decals that have been done on various cosplay and prop projects.