This blog features our customers finished applications and projects.  If you have order waterslide decals from us and have pictures of your finished work we would love to see them and do a featured article for you on your website.  We will also give you free shipping on your next custom order!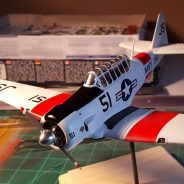 Check out this build by one of my customers.  It is a 1/48th scale model plane T-6 Texan (Harvard II) replica.  There were a few modifications done to the Revell T-6 kit to accurately portray the real deal.  The owner of the plane and the model builder are both members of the Local EAA Chapter of Warbirds in Cincinnati, Ohio. "Your decals worked great, even on the challenging rivet-rich surface of this plane. (I used the stars and bars from the kit, and regretted it…they are very thick in comparison)." –...
read more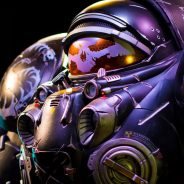 As any cosplayer will tell you, attention to detail is key. One of the last steps to building my Raynor armor from StarCraft 2 was adding the lettering and warning symbols to the various access ports, pinch points, power supplies and vents that a piece of real-life military equipment might have. After trying stencils, vinyls, airbrushing and hand painting, I remembered waterslide decals and their ability to capture incredible details. Bedlam Creations did a perfect job of converting my designs to a format that not only solved many problems...
read more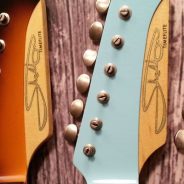 Over the years Bedlam Creations has transitioned from mainly doing just decals for scale modeling into a range of decals which includes waterslide guitar headstock decals.  There a many skilled guitar luthiers that design and build beautiful guitars and we are fortunate to be able to offer them quality waterslide decals to finish off there piece. The guitars in the picture shown above were built by Shelton's Guitars.  They started purchasing waterslide decals from us back in 2015 for there new line of guitars.  You can find out more...
read more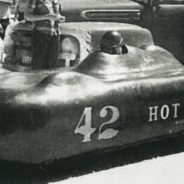 These models were designed and created by Sam Chaloupka of Soldan Models. Sam specializes in recreating vintage racing vehicle models. Bedlam Creations was supplied with pictures from old magazines and other details along with print colors. Based off from the model and the pictures we were able to design and size the waterslide decals correctly. Soldan Models then paints the models and applies the decals and other finishing touches. Below are just some of the custom waterslide decal projects we supplied Soldan Models.  You can contact Sam at...
read more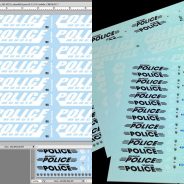 There are 4 easy steps to having your own custom waterslide decals created.  First send us a request for quote with information on your project, pictures, artwork, description will work fine and we will calculate a price.  Second step after order is placed is for us to start on the waterslide decal sheet proofs and send via email before printing for any last minute revisions.  The third step is for us to print out the decals and ship to you.  The fourth and final step is for you to apply the waterslide decals to your model. We specialize in...
read more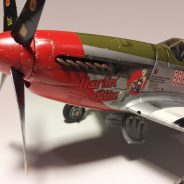 Here is a 1:32 scale P-51 Mustang model plane that was built by Matt Minnichsoffer.  Matt was able supplied the file to us in vector format which lowered the costs and allowed us to turn the custom waterslide decals around quicker....
read more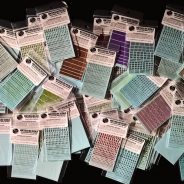 We stock a selection of small waterslide decals printed on 2″x3″ sheets. These are basic numbers, letters, stripes, checkers and symbols that you can shop for online. They are available in a wide variety or color combinations. Some of the popular colors are stocked and can be shipped out right away, however some decals are print on demand and may take a couple days to produce before shipping. Checker Waterslide DecalsWe offer single color and two color checker waterslide decals in 12 colors. These decals are printed on a 2" x 3"...
read more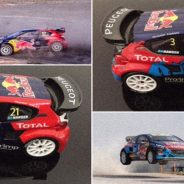 These are awesome 1/43 scale Peugeot rallycross replicas created by Tristan North using Bedlam Creations waterslide decals.  Tristan came to me with a word file and some low resolution graphics.  Based off from the sizing he supplied for each of the decals along with the quantities we were able to help him out with his project.  ...
read more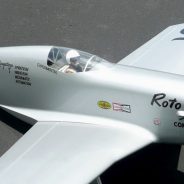 This Roto-Finish build was done by George Miller a customer of ours. A lot of man hours went into the creation of this model plane. If you would like to read more information on the project there is a great article and more pictures at the link below. We are happy to be able to add these pictures to our showcase. All of the waterslide decals shown where provided by Bedlam Creations.    ...
read more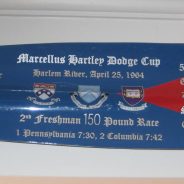 With the ability to apply waterslide decals to almost any surface the applications are endless.  You can create your own award or plaque to honor a special event or a special person.  Waterslide decal can be applied to wood, metal, plastic, rock, glass and any other ridged surface. The picture shown above was from a customer of ours who wanted to honor the rowing team he was on.
read more